Expert Holiday Lighting Design & Installation
Are you ready to dazzle your neighborhood with a spectacular display of holiday lights this year? The festive season is just around the corner, and what better way to spread cheer than by adorning your home with beautiful Christmas lights? But before you start untangling those tangled strands and climbing ladders, why not consider hiring a professional holiday lighting contractor in Chattanooga? With their expertise, creativity, and precision, these experts will turn your vision into reality while saving you time and ensuring a safe and stunning display. In this blog post, we will explore what to look for in a holiday lighting contractor, as well as the many benefits of enlisting their services. Get ready to make your home shine brighter than ever before!
Renew Exterior Services provides expert holiday lighting for your home or business. Having professionals install your lighting gives you peace of mind and more time to enjoy the holidays. It also reduces your risk of personal injury while installing lights. Your price includes the design, installation, maintenance, removal, and even free storage of your lights. 
A professional, safe, certified, and courteous staff.
Commercial grade lighting that is custom and last for years.
A worry-free warranty.
Free designs for your home or business.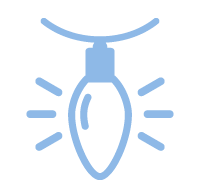 n it comes to finding the best holiday lighting contractor in Chattanooga, there are a few key factors to consider. First and foremost, experience is crucial. Look for a contractor who has years of experience in designing and installing holiday lighting displays. This will ensure that they have the knowledge and expertise needed to create a stunning and safe display.
 Another important factor to consider is their portfolio of past work. Take the time to look at photos or videos of their previous installations. This will give you an idea of their style and quality of work.  Additionally, it's essential to find out if the contractor offers customization options. Every home is unique, so you want a contractor who can tailor their design to fit your specific needs and preferences.
 Communication is also key when working with a holiday lighting contractor. Make sure they are responsive, attentive, and willing to listen to your ideas and concerns throughout the process.  Don't forget about safety precautions. Ask the contractor about how they handle electrical connections, use proper equipment for installation, and ensure that all lights are securely fastened.
We work alongside you to create a custom design for your home or business with professional, commercial-grade lighting that we provide. We install, maintain, remove and even store your lights! We also create custom designs for any holiday – not just Christmas. This could include Halloween, Independence Day, or even football season!
When it comes to holiday lighting, hiring a professional contractor is the smartest decision you can make. They have the experience, expertise, and creativity to transform your home into a magical winter wonderland that will impress all who see it.  In Chattanooga, there are several excellent holiday lighting contractors to choose from. However, if you're looking for the best of the best, look no further than [Company Name]. With their exceptional service, attention to detail, and commitment to customer satisfaction, they truly stand out in the industry.  Remember when searching for a holiday lighting contractor to consider their reputation, experience level, and range of services offered. Look for companies that offer customizable packages tailored to your specific needs and budget.
Holiday Lighting Examples
The Grinch
The Grinch represents a basic design of what could be expected on a home. This design is for the budget friendly person, but still allows for a professional look.
The Elf
The Elf design example is what we recommend for most homeowners. This example is a perfect blend between budget friendly and a winter wonderland.
The Hallmark
This design has no limits. Whatever your heart desires, The Hallmark delivers. Maybe you want to be seen from space, who are we to judge?
Our packages begin at $500. Ask us how to get 10% off!
Let Renew help build your holiday vision today.