Expert Holiday Lighting Design & Installation
Renew Exterior Services provides expert holiday lighting for your home or business. Having professionals install your lighting gives you peace of mind and more time to enjoy the holidays. It also reduces your risk of personal injury while installing lights. Your price includes the design, installation, maintenance, removal, and even free storage of your lights. With Renew Exterior Services, you get:
A professional, safe, certified, and courteous staff.
Commercial grade lighting that is custom and last for years.
A worry-free warranty.
Free designs for your home or business.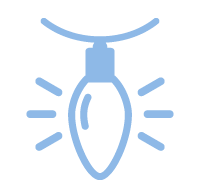 We work alongside you to create a custom design for your home or business with professional, commercial-grade lighting that we provide. We install, maintain, remove and even store your lights! We also create custom designs for any holiday – not just Christmas. This could include Halloween, Independence Day, or even football season!
Holiday Lighting Examples
The Grinch
The Grinch represents a basic design of what could be expected on a home. This design is for the budget friendly person, but still allows for a professional look.
The Elf
The Elf design example is what we recommend for most homeowners. This example is a perfect blend between budget friendly and a winter wonderland.
The Hallmark
This design has no limits. Whatever your heart desires, The Hallmark delivers. Maybe you want to be seen from space, who are we to judge?
Our packages begin at $500. Ask us how to get 10% off!
Let Renew help build your holiday vision today.